WorkAbility Program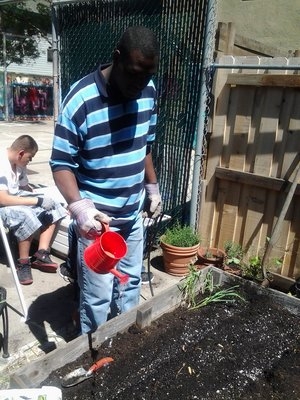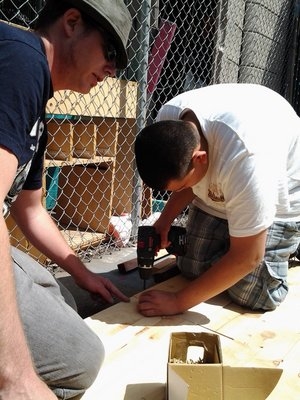 Via Center's WorkAbility Program, founded in 2001 through a grant from the California Department of Education, is designed to help our students acquire the skills they will need to succeed in the adult lives that await them once they have finished their academic studies. The WorkAbility Program's scope is broad and encompasses all aspects of transition. Although the program emphasizes the development of vocational skills, WorkAbility is also concerned with teaching the independent living skills required to do well at home as well as the social skills required to integrate smoothly with the community at large.
Most Via students have designated times during the school week when, with the aid of a one-on-one job trainer, they focus on mastering a particular vocational task. The tasks are real (in the sense that they actually need doing), and they are assigned with the student's abilities and interests in mind. The tasks range from office work (such as paper-shredding) to kitchen work (such as dish-washing) to janitorial work (such as window-cleaning). Students actually clock in before and after WorkAbility sessions, and professionalism is stressed while students are "on the clock." Students aged 16 years and up are often paid for their work.
With respect to Via's older, more independent students, one of the WorkAbility Program's goals is to provide an opportunity for authentic employment in off-campus positions throughout the Bay Area. Students travel with one-on-one job coaches to the worksite, where they learn to follow the instructions of the supervisors at the hosting business. Over the last several years, local businesses hiring Via students have included the East Bay Depot for Creative Re-Use, the West Coast Feminist Health Project, the Hayward Area Recreation Department, and the Magic Johnson Out-of-the-Closet Thrift Store. The WorkAbility Program also prepares students for possible transition to institutions of continuing education, and we have been instrumental in helping two students get accepted at the National Institute for Arts and Disabilities.
Via Center's ceramics workshop (complete with a professional grade kiln) operates much like a workers' cooperative, with various students contributing their efforts toward the production, packaging, and/or marketing of clay artwork.

The extra resources provided to Via Center through the WorkAbility grant have proved invaluable in boosting our ability to achieve and expand our mission. The WorkAbility Program will, in the years to come, continue to play a major role in our efforts to give our students the experience of pride in a job well done.